A Tenipuri Zine Celebrating the 3rd Anniversary of RisingBeat | 2020-2021
---
TENIRABI ZINE 2 IS HERE!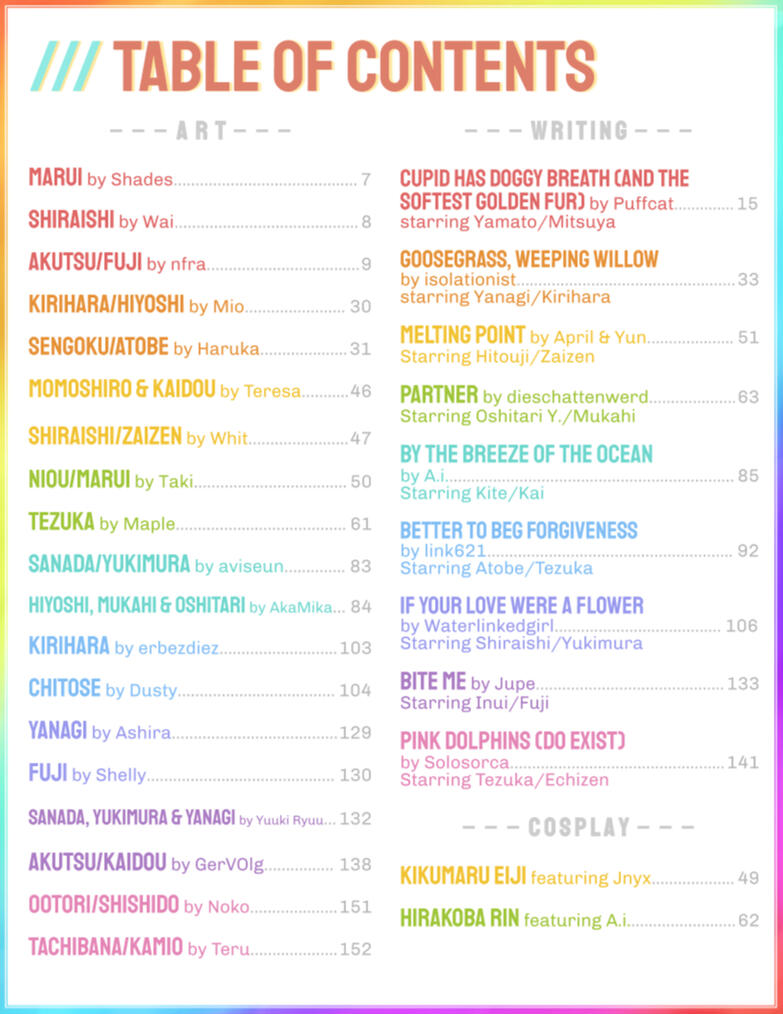 Tenirabi Zine 2 features illustrations, comics, fics, poetry, and cosplay. Enjoy the free zine and don't forget to share!
Resources
Zine pieces can take inspiration from many places!
A few examples:
Based off a character card

Based off a situation card

Based off a story

Based off an event/event aesthetic

Based off a song

Based off myspace

Based off chibi shenanigans

Based off a game screenshot of any sort
Stories
English Translations of Tenirabi Stories

Great news! @electrolimes has kindly assembled a directory of English translations for event stories, card stories, character stories, etc. It's an incredible resource! Much thanks to the translators out there.

The stories are the best source of inspiration in our opinion. They have fantastic content. It's highly recommended that you check them out.
Cards
Holycow's Tenirabi Gallery

This gallery assembled by Holy is a beautiful, comprehensive list of all of the cards in tenirabi. You can find most character cards here.


-OTHER RESOURCES-

-The Japanese Tenirabi Wiki is a good source for finding permanent cards, event cards, and situation cards. It's in Japanese, but this website has most card images and they have image icons that make it easy to search by event and character.

-Tumblr is another good resource. Try searching the tenirabi tag or a character's tag often produces results.

-If you just need inspiration, try the official twitter account where they post the images as samples.

-If all else fails, just ask around on twitter or search the #risingbeat tag from around the date of the event using advanced search.

Note: HD images of most unawakened event cards can be found in the event stories for that card, though it might require digging.
Myspaces
Submissions of decorated myspaces are open until December 10th.
See examples here! See Media Types for guidelines.

To submit a myspace, email them to tenirabizine(at)gmail(dot)com
The subject line should be "Myspace".
You can include your name for credit, your tenirabi ID, or you can choose to remain anonymous.
INFORMATION
Media Types — Guidelines — Tenirabi Canon Definition
Timeline
Friday, August 28: Applications open for zine contributors and myspace submissions. Fan polls open.

Sunday, September 20: Applications for zine contributors close!

Sunday, October 4: Idea/plan due. At the very least we need to know what background characters you plan to include and what your theme/idea is, and what game element is. If you change any of this information later that's okay, just keep us updated.

Sunday, November 8: Halfway point, first draft due. You have about a month after this to complete your piece.
Game screenshot due.

Sunday, Dec 6: Final piece due!

Thursday, Dec 10th: Myspace submissions and tenirabi fan polls close.
General Zine Information
–What is 'tenirabi'?
Tenirabi is a nickname for Shintenisu no Ouji-sama: RisingBeat, a mobile rhythm/gacha game centered around the series New Prince of Tennis. It is also referred to as RisingBeat.

–What if I don't draw, write, or cosplay? Can I still contribute?
Yes! You can submit screenshots of your decorated myspace. It doesn't even require filling out a standard application. Just e-mail the myspace screenshots to tenirabizine(at)gmail(dot)com.

–What are the rules for applying?
Check out the guidelines.

–I don't know if I want to apply because I'm busy. When will the zine be released?
Understandable, Tenirabi is a very demanding game. Tenirabi's 3rd Anniversary falls late November, but the zine is scheduled to release a bit later, shortly before New Years.
Final pieces will be due December 6th.

–When can I apply?
Applications open on August 28th and close on September 20th. Assignments will be given out the week after applications close. Myspace submissions and the fan polls are open until December 10th.
If you're interested in contributing to the zine, be sure to apply.

–I don't care about applying. What is this even about?
Check out the zine's vision to see what you can look forward to!
Contact
Questions, comments, and suggestions can be sent to tenirabizine.tumblr.com or @tenirabizine on twitter. You can also e-mail tenirabizine(at)gmail(dot)com.
THE VISION
Tenirabi is a broad theme– it covers basically everything at U-17 Camp. The options for zine content are wide and large. For a better idea of dreams and expectations, please read on.
Guidelines
Must only contain characters present or mentioned in the game.

Rated T for teens- spicy content is allowed, but nothing nsfw.

Have a clear reference. This isn't required, but ideally each piece should be able to cite inspiration from an in-game screenshot.

Zine content will be in the spirit of Tenirabi Canon*.

Be respectful of your fellow gamers.

All content will be never-before-seen, published for the first time in the Tenirabi Zine.

For content/format guidelines, see Media Types.
.
Ideas & Examples
Note: You are not limited to these suggestions! They're just ideas. The only purpose of this list is to provide inspiration.
First, be sure to check out last year's Tenirabi Zine!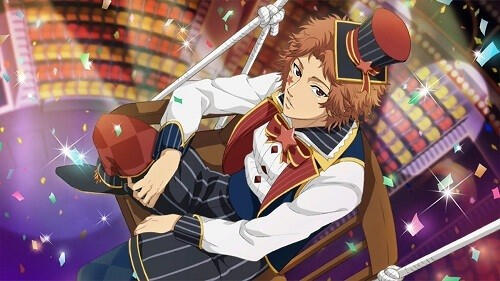 Costume design
Take inspiration from an event outfit or event aesthetic, design an outfit for other characters or spin off the character in the card.
Illustrate a story
There are plenty of cute or fun moments in stories that don't revolve around a card. One idea is to illustrate them. (Find stories.)
Base it off a myspace
Whether it's a paintball fight, a garden lunch, a little home you've designed for your favorites, whatever you can come up with– the myspace feature can make excellent inspiration. Story telling or an art setting, there are a ton of directions to go with this.

~ Let the chibis inspire you! ~
Tell a story about a bonus team
Not all the bonus teams are just classmates, room mates, team mates, etc. There are plenty of interesting combinations to think about.

Gakuto, Yagyuu, and Kaidou are all afraid of ghosts, for example.

These three all have pet beetles:

Myspace Gallery
A section of the zine will feature submissions of lovely decorated myspaces, so spice the place up and send in some screenshots!
Anything else you can think of? Do it for the zine!
See the Media Type Guide for specific information about zine content.
*Tenirabi Canon/Tenirabi AU
All events and stories in RisingBeat take place at the U-17 Training Camp. The context of these events seems to be:
.
All of the anime series, starting with Prince of Tennis (except for the fillers in the original anime, Josei Shounan, Rikkai arc and beyond).

Nationals, Another Story OVAs

The events of New Prince of Tennis up until the end of the vs. Genius 10 OVA (So, all of the New Prince of Tennis anime)

The British Castle Movie has been acknowledged.
— — —
This makes up the history of Tenirabi Canon (aka the Tenirabi Alternate Universe).

The rest of Tenirabi Canon is made up of any content, information, and stories released in the game.
— — —
Note: This definition is more important to keep in mind for fics/comics than for single art pieces or other content. AU fanfiction and comics will be accepted as long as they involve only characters in the Tenirabi Canon and are directly inspired by an event, event aesthetic, card, or other piece of Tenirabi Canon.
Media Type Guide
Note: Each piece in the zine must have a corresponding game image (card, screenshot, etc.) It will be displayed in the table of contents. It is part of the vision.
Illustration
Art (digital/traditional)
Portrait, US Letter size, 300 dpi (2550 x 3300 pixels)

Full single page artwork, including at least a basic background (not a single color).
Comic
Art (digital/traditional), text(digital)
Portrait, US Letter size, 300 dpi (2550 x 3300 pixels)

1+ pages (no upper limit), at least 2 panels per page. Leave room for gutter space. Artist is responsible for arranging panels and including appropriate margins/padding. All writing and sound effects must be in English.
Fic
Writing
Google doc.

600 - 4200 word limit, in English. Major characters and basic premise should be disclosed ahead of time. Subject to basic editing, spelling/formatting. No edits will be published without author's confirmation.
Illustrated Fic
Art (digital/traditional), Writing
Google doc. including image placement + image attachments submitted separately

200-4200 word limit, in English. 5 illustration limit. Illustrations can be of any size, however, in the case of multiple illustrations, only one illustration may take up a full page. Otherwise, basic guidelines for both Fic and Illustration apply.
Poetry
Writing
Google doc.

Poem must be in English. Limit of 1200 words. Other than the basic guidelines (teen appropriate and tenirabi related), anything goes. No edits will be published without poet's confirmation.
Myspaces
A myspace submission can be the full myspace itself, or it may include screenshots of a myspace and its highlights, close ups, or chibi interaction.

You may submit as many as you'd like!
Cosplay guidelines are flexible and will be decided on a case by case basis.